It is not only in jewellery that the bride with the wedding theme Rosé is completely in vogue. Pink-coloured textiles around the laid table harmonise with coarse wood and naturally bound meadow flowers. When it comes to decoration, it may shine metallically, for example with cutlery, which radiates a touch of vintage in copper colour.
The bride is not pompously styled in this wedding motto, but wears a wreath of flowers, gently wavy, open hair and a dress of the finest lace.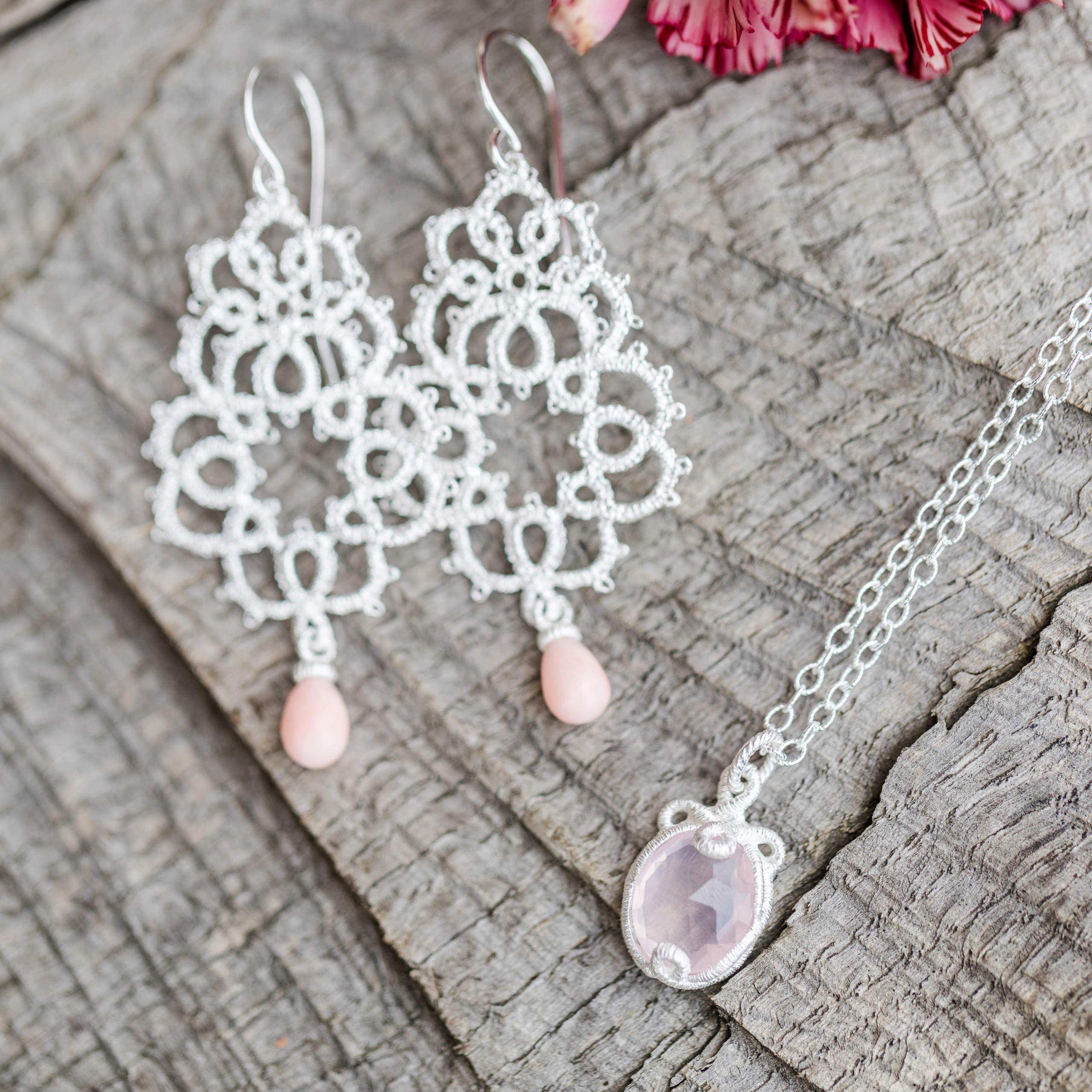 This Styled Shooting was organized by the wedding organizer Julia Wiesner, who, together with her selected service providers, proves a knack for wonderful wedding moments. My job was to choose the perfect wedding jewellery professionally. Yes, with pleasure! To the fine vintage pattern of the wedding dress I have chosen earrings, which underline and emphasize this delicate lace with their filigree ornamentation.
The size of the earrings should not be too small with open hair. That's why I decided on the slightly longer earrings Sissi II, the icing on the cake.
In order to stay true to the colour concept with cream and apricot tones, I combined delicate salmon-coloured corals with the silver, almost white earrings. I am completely in love…
The wedding rings Papagena & Papageno look as if they are spun from fine white gold threads – just "wrapped around the finger".
In this blog post I will show you even more jewellery in rose gold with moonstone or pearls that shimmer pink – romantic, feminine and an eye-catcher even after the most beautiful day!
Jewellery with delicate rosé tones
The photos from the shooting of Julia Wiesner and partners